Fortified Bicycle - Geared for the City
This Kickstarter campaign was for Fortified Bicycle, a revolutionary bike designed for the city.
EMAIL CAMPAIGN
Before and during the Kickstarter, Fortified will send out emails to encourage those who have donated in the past to donate again.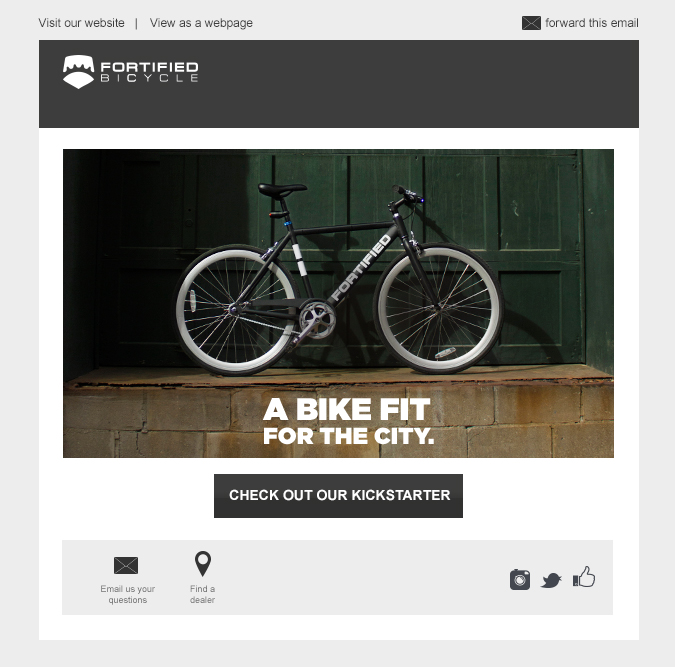 INSTAGRAM AND FACEBOOK TEASER COUNTDOWN
The six days leading up to the launch of the Kickstarter, Fortified will release one photo a day to create the first public reveal of their bike.
PAID SOCIAL CONTENT
Example pieces of content that represent the image of Fortified's social content. Simple and clean, featuring the product and its unique features.
INTERACTIVE WEBSITE
On Fortified's website, you will be greeted by the new product with a pop up window.
When you close out of the tab, you will see the manifesto featured as the hero image of the website.
When the cursor scrolls over different parts of the page, animated boxes will appear showing more features and close up images of the bike.
STREET ART
Temporary spray chalk can be applied on sidewalks in parks and near bike racks in the city.
GUERILLA MARKETING
Fortified Bike sculptures in the streets of top cities such as Boston, NYC, and Los Angeles. People will see the Fortified bike as if it were stuck in the sidewalk to send the message that this bike is part of the city.